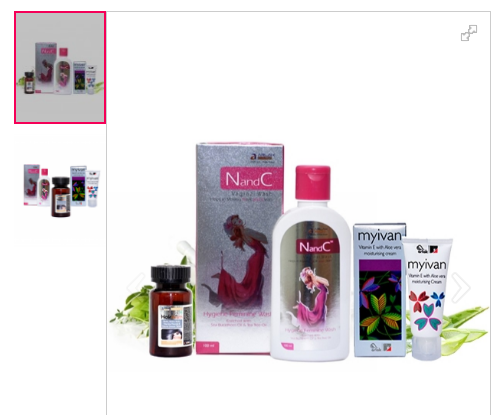 PERSONAL CARE Kit for Women
SKU: ARL-201812005
This kit comprises of skin moisturizing cream, feminine wash (vaginal wash), hair growth tablets. All the products which are included in this kit are approved and have no side effects.
₹907.00
Out of stock
Product Info
Ingredients
Description
Vendor
Reviews (2)
Questions and Answers
Product Info
| | |
| --- | --- |
| Weight (1N) | 0.5 kg |
| Product Dimensions | 15 × 10 × 15 cm |
| Brand | Arlak |
| Discount | |
Ingredients:
Arlak Skin Moisturizing Cream
Vitamin E Acetate IP 0.50%
Moisturizing cream base with Aloe Vera q.s.
Arlak Hair Wealth Tablets
Each tablet contains-
Energy 1.056kcal Essentials Vitamins
Protein 0.198 g Vitamin C 40 mg
fat 0.00g Niacinaqmide 15mg
Carbohydrates 0.066g Biotin 10mg
sugar 0.00g Vitamin E 5 mg
Glutamic acid 61.8mg Calcium Pantothenate 5 mg
DL-Methionine 40mg Folic Acid 150 mcg
Aspartic acid 36.2mg
Leucine 23.8g Essential minerals
Arginine 23.5mg Calcium Pantothenate 100 mg
Lysine 19.6g Magnesium 50 mg
Proline 16mg Iron 14 mg
Serine 16mg Zinc 10 mg
Phenylalanine 16mg Manganese 5 mg
Isoleucine 14.6mg Copper 1.7 mg
Valine 14mg Selenium 40 mcg
Glycine 12.8mg Natural Extracts
Tyrosine 11.9mg Grape Seed Extract 20 mg
Alamine 11.9mg
Threonine 11.3mg
Histidine 7.7 mg
Cystine 3.9 mg
Tryptophan 3.6mg
Arlak N&C Feminine Wash
Lactic Acid 1.2% w/w
Other Ingredients-
Purified water, triethanolamince Lauryl Sulphate, Ammonium, Lauryl Sulphate, Cocamidopropyl Betaine, PEG-7 Glyceryl Cocate, Phenoxyethanol, Bezoic Acid, Dehydroacetic Acid, Sorbitol, Hydroxypropyl Celllulose, Polyquaternium-7, Fragnance, Hippophae Rhaamnoides (Sea Buckthorn). Fruit Oil, Sodium Hydroxide, Tea Tree Oil (Melaleuca Alternifolia).
Description
From the Manufacturer's Label:
Benefits of Arlak N&C Feminine Wash
The main benefits of this most effective vaginal wash product manufactured by Arlak Biotech are as mentioned below-
Daily wash with N and C leaves a fresh sensation & maintains healthy vaginal.
Prevents unpleasant odor & irritation in the intimate areas.
Natural herbal product.
Promotes clean intimate area.
Maintains pH balance.
Suitable for all skin type.
Makes you feel confident.
Effective for burning sensation.
Key Features of Arlak Myivan Moisturizing Cream:
Arlak Myivan Moisturizing cream contains following features which provides best results to the skin and are as mentioned below-
Softens skin and protects from Sun Damage.
Protects from skin ailments.
Provides radiant skin.
Enriched with Vitamin E.
Benefits of Arlak Hair Wealth Tablets:
The main benefits of Arlak Hair Wealth Tablets for hair growth are as mentioned below-
Helps to grow hair naturally.
Makes hair more pliant and manageable.
Offers protective nutrients to help diminish breakage due to medications, chemical processing or colour treatments.
Combats the signs of ageing to give you luxurious and younger looking hair.