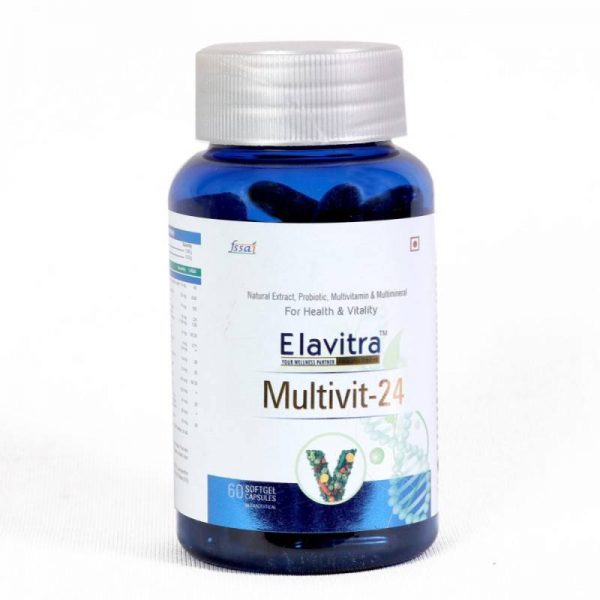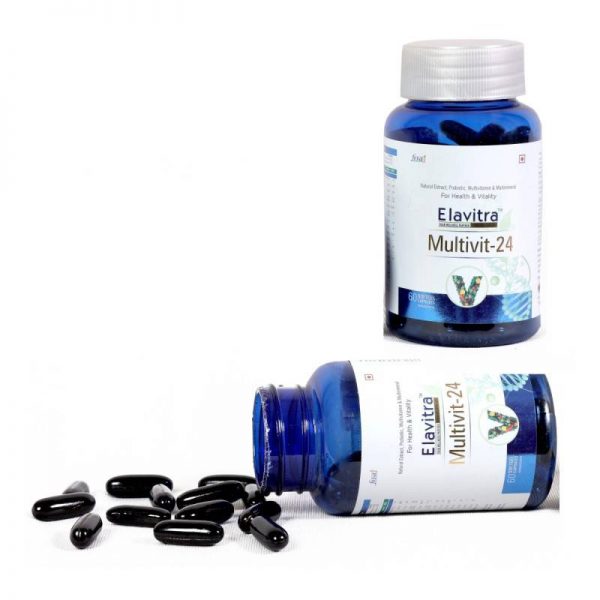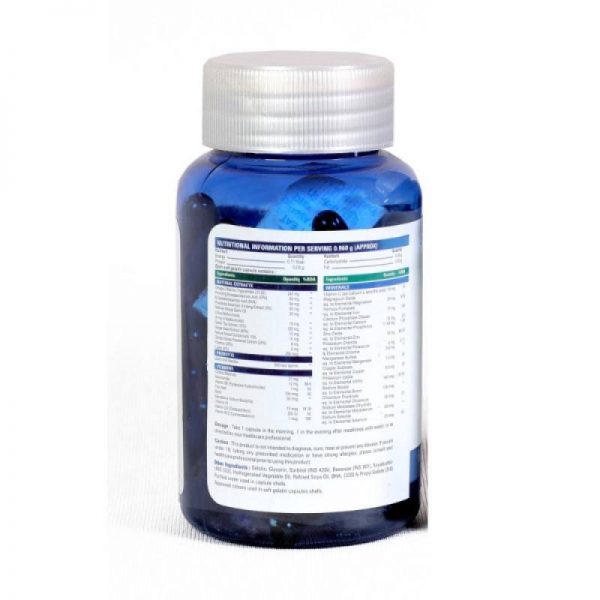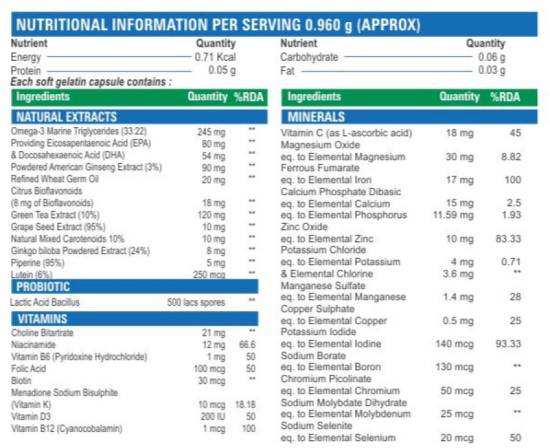 ELAVITRA™ Multivit -24 for Men & Women, Multivitamins, Multiminerals, Nutrition Supplement for Energy, Immunity & Stamina (60 Soft Gel Capsules)
SKU: ELA-201812007
An Effective Formula with Essential Vitamins & nutrients
Boost your energy and balance your immunity with Elavitra's Multivit-24, A scientifically formulated blend of 9 essential vitamins and 15 minerals that improve energy, balance immunity & increase the stamina.
Package Includes: 1 Bottle (60 Soft Gel Capsules) gluten-free; contains no added flavorings, additives or preservatives.
Comprehensive Formula with natural extracts, Omega 3, Antioxidant & Probiotics.
₹1,499.00
Out of stock
Product Info
Ingredients
Description
Vendor
Reviews (10)
Questions and Answers
Who Should Not Buy?
How To Use
Product Info
| | |
| --- | --- |
| Weight (1N) | 0.5 kg |
| Product Dimensions | 15 × 10 × 15 cm |
| Brand | Elavitra |
| Quantity | 60 Capsules |
| Vegetarian/Non-Vegetarian | Non-Vegetarian |
| Form | Capsules |
| Packaging | Capsule Bottle |
| Utility | Multivitamins, Multiminerals, Nutrition Supplement for Energy, Immunity & Stamina. |
| Gender | Men, Women |
| Nutritional Information | Per Serving 0.960g (Approx.): Energy 0.71 Kcal, Protein 0.05g, Carbohydrate 0.06g, Fat 0.03g. |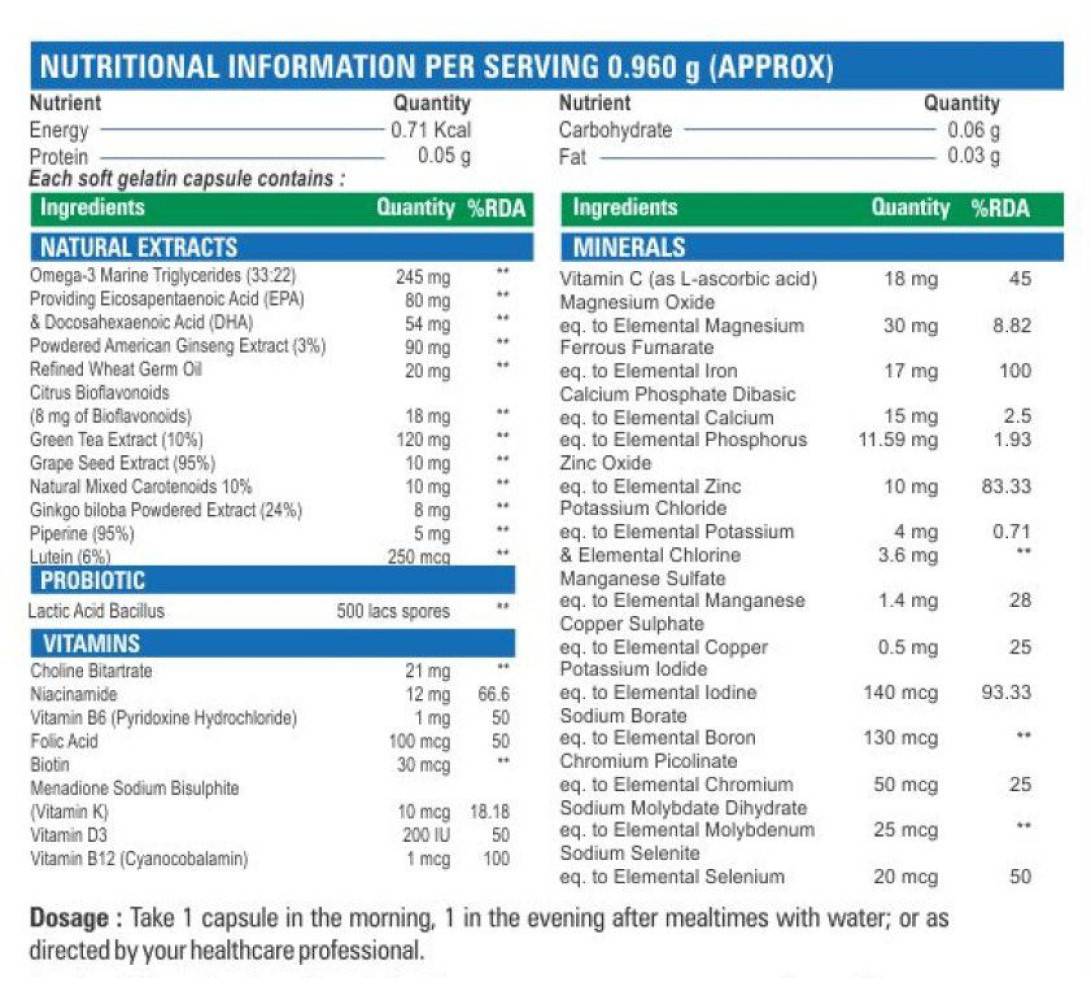 Description
Multivit-24 is a wellness formula which contains a powerful combination of herbs, antioxidants, vitamins, and minerals formulated to boost your energy for well being.
Immunity Booster
Elavitra's Multivit-24, blended with vitamins and minerals, release essential antioxidants and enzymes that help boost immunity.
Energy Booster
Essential vitamins act as catalysts in our body that enhance brain activities and body for energy storage and release.
Stamina
By insufficient intake of vitamins and minerals, our body gets fatigued and then it may increase the stress and anxiety, so by intake of sufficient vitamins, our body get the energy to work and it increases the stamina.
Key Components

Natural Extracts: The Multivit-24 contains natural extracts including Panax ginseng & Ginkgo biloba, Wheat Germ Oil, Green Tea Extract, Grape Seed Extract, and Piperine. These ingredients together help in improving focus & alertness.Omega-3: The Omega 3 present in Multivit-24 is sourced from cold-water fishes and is a rich source of EPA & DHA. This helps to reduce cholesterol and improves joint flexibility and mobility.
Probiotics: Probiotics in Multivit-24 are heat stable, they help to improve digestion and strengthen the immunity.
Antioxidants: With the goodness of Citrus Bioflavonoids, Mixed carotenoids, and Lutein, Multivit-24 improves eye health and vision.
Disclaimer: These statements have not been evaluated by the Food and Drug Administration. This product is not intended to diagnose, treat, cure, or prevent any disease.
*These statements have not been evaluated by the Food and Drug Administration. This product is not intended to diagnose, treat, cure or prevent any disease.
As a dietary supplement, take 2 capsules daily with water.
Warnings:
Use only as directed. Do not take this product if you are pregnant or nursing. Consult a health care professional before use if you are allergic to any ingredients, have a serious medical condition, or use prescription medications. For adult use only. If you are pregnant, nursing or taking any medications, consult your doctor before use. If any adverse reactions occur, immediately stop using this product and consult your doctor. If seal under cap is damaged or missing, do not use. Keep out of reach of children. Store in a cool, dry place.
DO NOT EXCEED RECOMMENDED DOSE.