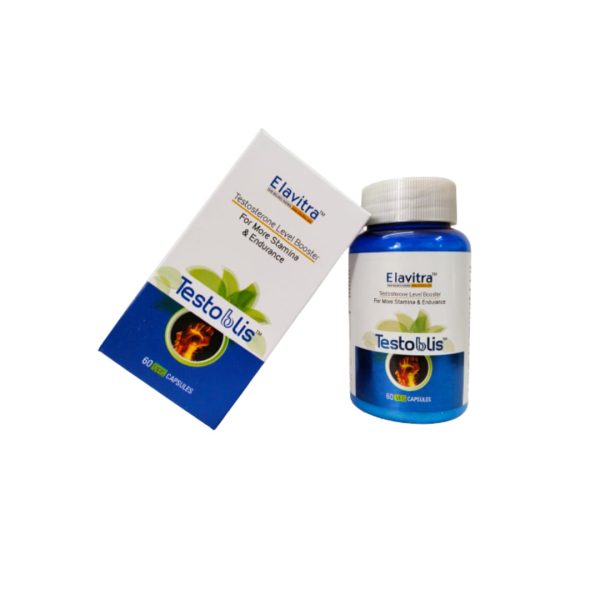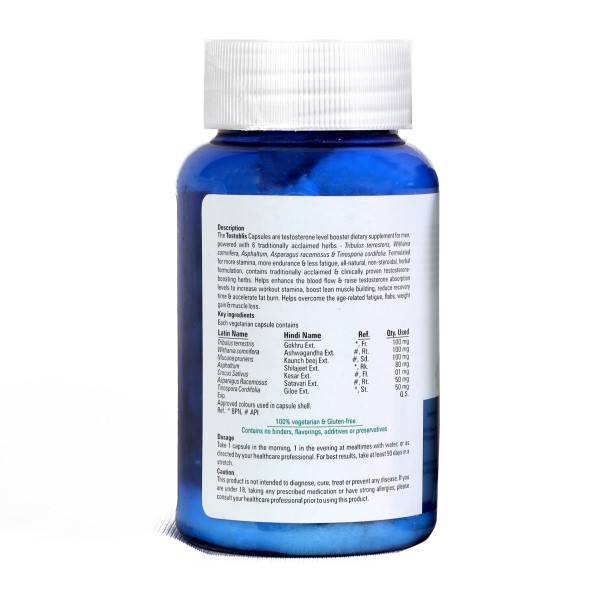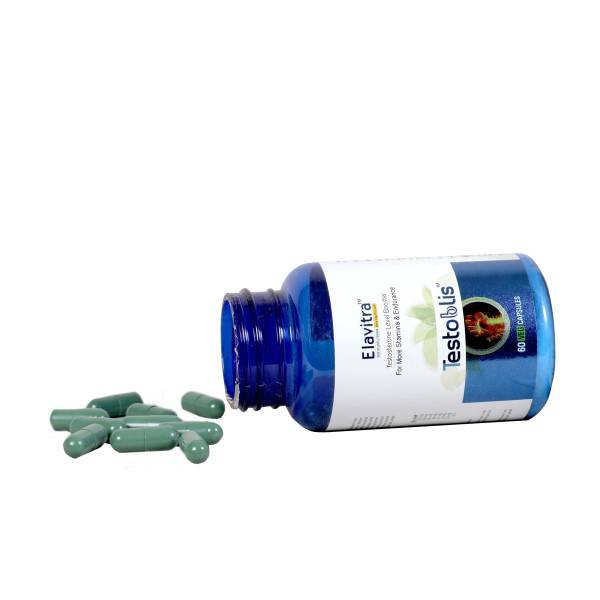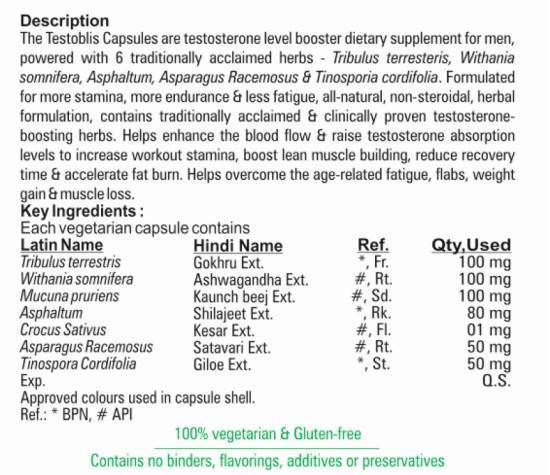 ELAVITRA™ TESTOBLIS – Natural Testosterone Booster for Men for more Stamina and Endurance (60 Vegetarian Capsules)
SKU: ELA-201812002
TESTOBLIS by Elavitra, is a testosterone level booster dietary supplement for men, enriched with 7 unique traditionally acclaimed herbs -Tribulus terresteris,Mucuna pruriens,Withania somnifera,Crocus Sativus, Asphaltum, Shatavari & Tinosporia cordifolia.
Specially formulated from all-natural, no steroidal, herbal source for more stamina, more endurance & less fatigue.
Package Includes: 1 Bottle (60 Capsules) 100% vegetarian & gluten-free; contains no added fillers, binders, flavorings, additives or preservatives.
₹1,199.00
Product Info
Ingredients
Description
Vendor
Reviews (9)
Questions and Answers
Who Should Not Buy?
How To Use?
Product Info
| | |
| --- | --- |
| Weight (1N) | 0.5 kg |
| Product Dimensions | 15 × 10 × 15 cm |
| Brand | Elavitra |
| Discount | |
| Quantity | 60 Capsules |
| Vegetarian/Non-Vegetarian | Vegetarian |
| Form | Capsules |
| Packaging | Capsule Bottle |
| Utility | Natural Testosterone Booster for Men for more Stamina and Endurance. |
| Gender | Men |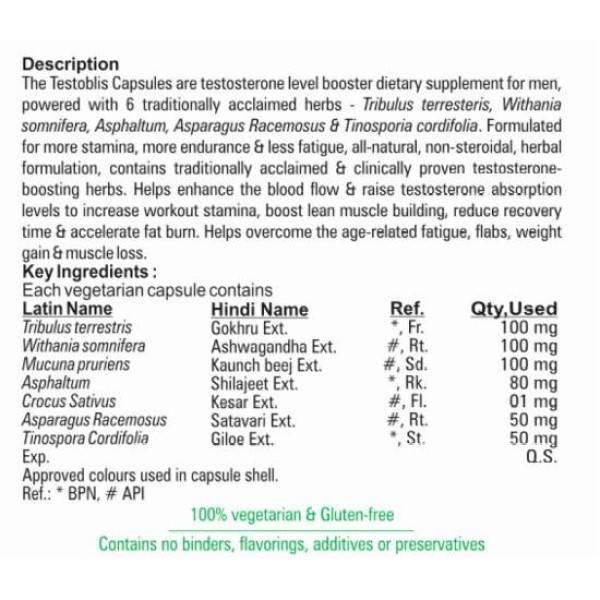 Key Ingredients:
Each Vegetraian Capsule contains:
Tribulus terresteris ( Gokhru Ext. ) = 100 mg
Withania somnifera ( Ashwagandha Ext.) = 100 mg
Mucuna pruriens ( Kaunch beej Ext. ) = 100 mg
Asphaltum ( Shilajeet Ext.) = 80 mg
Asparagus Racemosus ( Satavari Ext.) = 50 mg
Tinospora cordifolia ( Giloe Ext. ) = 50 mg
Crocus Sativus ( Kesar Ext.) = 01 mg
Description
TESTOBLIS has been top Ayurvedic capsules for Testosterone boosting levels, leading to increase muscle mass, energy levels and sexual libido.
TESTOBLIS is a unique product to support testosterone production while balancing estrogen levels. It also helps to increase energy, vitality and lean muscle mass and will support adrenal fatigue while enhancing both physical and mental resistance to stress. It is the best testosterone booster capsules for men.

This Unique herbal supplement includes-Tribulus terresteris, Mucuna pruriens, Withania somnifera, Cordyceps sinensis, Shatavari & Tinosporia cordifolia to improve endurance, speed recovery time and maximize strength before, during, and after a workout.
Its Ingredients includes :
Tribulus terrerteris, is probably one of the most well-known herbs for testosterone support and for good reason. There are multiple clinical studies linking supplementation with Tribulus to testosterone levels as well as exercise performance. Tribulus also provides cardiovascular benefits, increasing blood flow and NO levels, all promoting muscle growth, increased strength and enhanced athletic performance. Tribulus is widely used by professional bodybuilders and athletes.
Withania somnifera in TESTOBLIS has ability to reduce cortisol levels, increases energy, optimizes hormone profile, enhances endurance, reduces recovery time between exercise sessions, boosts overall exercise performance, exerts antioxidant effects and boosts immune system function.
Mucuna pruriens is an adaptogen: a potent, safe and corrective superherb that helps to protect your body from the damaging effects of stress.
Asphaltum in TESTOBLIS contains fulvic acid and more than 84 minerals so it offers numerous health benefits. It can function as an antioxidant to improve your body's immunity and memory, an anti-inflammatory, an energy booster and a diuretic to remove excess fluid from your body.
Corcus Sativus extract in TESTOBLIS works by increasing the levels of serotonin produced by the brain. Serotonin is a neurotransmitter that is responsible for controlling hunger and mood. Increased serotonin levels causes reduction in hunger and cravings. It also makes you more enthusiastic and makes you feel more energetic.
Asparagus Racemosus in TESTOBLIS is regarded as a rasayana (rejuvenative). The herb is also known to raise energy levels and increase strength. The herb is known to be a rich source of antioxidants and other bioactive phytochemicals like flavonoids and saponins. Notably, it contains steroidal saponins that can boost testosterone levels.
Tinospora cordifolia is a herb which is used to enhance vitality. It is being researched for a variety of health effects, including its effect on diabetes, glucose metabolism, inflammation, immune system support and neurology.
Disclaimer: These statements have not been evaluated by the Food and Drug Administration. This product is not intended to diagnose, treat, cure or prevent any disease.
Warnings:
For adults only. If you are pregnant, nursing or taking any medications, consult your doctor before use. If any adverse reactions occur, immediately stop using this product and consult your doctor.
Please consult healthcare practitioner.
As a dietary supplement,take one (1) capsule twice daily with water. For best results, vigorous exercise and a sensible diet are recommended. Use this product for no less than 90 days for best results. Do not exceed 4 capsules daily or as recommended by a healthcare practitioner.
If seal under cap is damaged or missing, do not use. Keep out of reach of children. Store in a cool and dry place.
Disclaimer:- These statements have not been evaluated by the Food and Drug Administration. This product is not intended to diagnose, treat, cure or prevent any disease.